Onboard Weighing For Front Loaders
Application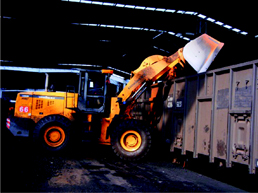 On Board Weighing Systems used in forklifts and front end loaders are usually hydraulic based using a pressure transducer fitted into the hydraulic lines to provide a pressure reading which is translated into a weight reading by a digital weight indicator The pressure in the lifting cylinder is tapped at a location where the bucket will be parallel to the ground to achieve repeatability. The low level signal from the pressure sensor is amplified and filtered by the high precision monolithic A/D converter and converted into digital format. With the aid of pressure and position sensors, the electronics evaluates complex dynamic weighing calculations to easy to read data shown on a large TFT colour display screen, all in real time. The dynamic weighing feature allows for weight measurements to be carried out even whilst the vehicle is in motion, preventing the need for lifting operation to be momentarily stopped The digitized data is further processed and stored according to the customer need and application.


Main Features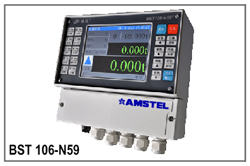 ARM CPU system with high arithmetic speed and 24-bit sigma-delta ADC.
Corrosion-proof and dust-proof shell suitable for dusty atmosphere.

EMC design with high anti-jamming capability, suitable for industrial environment.

DC 24V reverse connection protection.
640 × 480 dots TFT colour display screen.
High-frequency sampling multiple filter algorithm.

Acceleration compensation for high-precision weighing.

Display information of bucket lifting / declining state, single-bucket-loading-weight, totalized loading weight, positive / negative deviation value, alarm state, date / time.
Menu and shortcut mode operation with key tone.
Auto-locking, key-locking, key-unlocking, digital setting & calibration and I/O testing functions.
Facility to enter client name, vehicle number, material type and operator number.
Provision to set alarm limits.
Operating time, single-bucket-loading-weight, totalized loading weight and alarm information automatic recording facility.
2 oil pressure sensor weighing signal inputs and one position sensor input.
High sampling frequency, multiple digital filter and acceleration compensation algorithm for ensuring high weighing accuracy in the lifting process of the bucket.
1000 loading records can be saved, queried and printed, and each record can contain 50 pieces single-bucket-loading-weight value.
1000 reload records for reloading.
Weighing data can be printed by a thermal printer, which shows not only the weights lifted but also the time, client, operator and material type.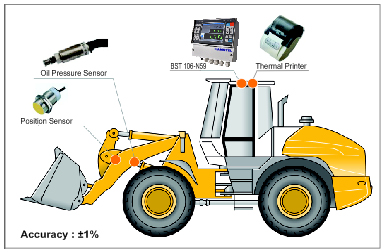 Benefits


Provides an operational guide.
Ensures trucks are correctly loaded first time, eliminating return trips from the weighbridge of over/under loaded trucks reducing weighbridge queues.
Improves site safety by eliminating unnecessary vehicle movements.
Weighing 'on the lift' speeds operation, enabling operators to load more trucks per shift.