Static Ladle Car Weighing System
Application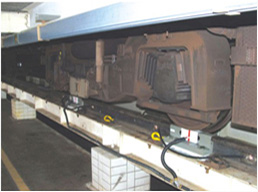 HotMetalRailWeigh is a static weighing system designed for the weighing of hot ladle cars. Precision QS-G load cells made in the form of the rail determine the weight of the ladle car. This is done by positioning the precision load cells beneath each of the wheels of the ladle car. The load cells and teflon cables are designed to withstand temperatures of over 250°C. The weight values are acquired and processed with the use of weighing electronics and customized PC systems.
Benefits
Static weighing of hot ladle cars.
Pitless and gap free design.
Simple installation – no frame needed.
Suitable for very harsh environments
Precise determination of hot metal output.
Technical Data
| | |
| --- | --- |
| Operating Temp.range of weighing controller | : 10°C to + 50°C |
| Operating Temp. range of load cell | : 10°C to + 200°C. |
| Rail profile. track width & tie spacing | : as used in existing tracksection |
| System Capacities (t) | : 10 to 300 |
| System Accuracy | : ±0.4% F.S. |
| Applicable Rail Weights | : 11 to 60 kg./m |
| Overload Capacity | : 150% |
| Applicable System | : for 4 wheel /8 wheel ladle car |
| Power supply for weighing controller | : AC 220 V±10% |
| Power consumption for weighing controller | : = 100 VA |
| Display resolution of weighing controller | : 1000 – 3000d |
Options
Wireless large display model GA 100.
Customized PC software for system
Wireless data transfer to control room with integration with plant level software