Electronic Weighbridge
The platform consists of I-beams for trouble free operations year after year. Depending on the space available , both pit type and pit less designs are available. The digital load cells are pre-calibrated at full load capacity to prevent manual labour required to lift and place standard weights for cornering and calibration. This allows for an installation time of less than 8 hours and helps shorten project lead time.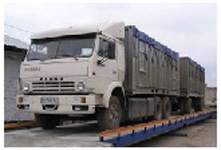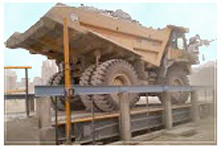 Double ended shear beam load cells
The simple, compact design and rugged hermetically sealed construction of the load cell assures long life. The technologically advanced spherical ball mounting arrangement ensures high accuracy & reliability to weight measurement and smooth performance of the load cell. The mounting design allows the weighbridge to automatically restore to the vertical axis once the truck comes on the weighbridge.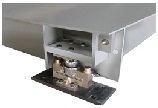 | | |
| --- | --- |
| Model | ATB |
| Size of platform | 7.5M X 3M, 9M X 3M, 12M X 3M, 16M X 3M, 18M X 3M |
| Capacity | 40T, 50T, 60T, 100T, 120T, 150T |
| Graduation | 5kg, 10kg, 20kg |
| Type of load cell | Double ended shear beam with IP 68 protection |
| Accuracy | As per OIML R-76, Class III - Medium |
| Type of platform | Steel based and concrete based |
| Auxiliary outdoor display | 25mm to 100mm seven segment red LED |
Weigh Terminal
User- friendly electronic weigh terminal to make work simpler and faster.
Suitable for harsh and dusty environment
Virus free unlike PC based system
Good visibility - backlit alphanumeric LCD and 7 segment red LED display
Factory calibration restore function
Effective truck data management system with high data storage of over 1500 records with processing and retrieval facility
Printer connectivity for reports and weighment slips.
Allows customer entry of material, supplier and vehicle details
Standalone operations without connecting to PC
PS2 keyboard connectivity for faster data entry
RS 232 interface
USB port for data storage in pen drive
Optional SMS alert facility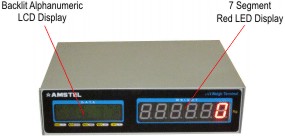 Weigh Terminal Front View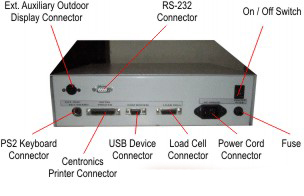 Weigh Terminal Back View
Weigh Soft
Windows based weighbridge data management software for PC
Modified version for unmanned weighbridge system
Separate reports like material-wise, party-wise, supplier- wise
User can define data fields to be captured for the weighment slips
Allows entry of material, supplier, vehicle, and shift detail
Generation of consolidated complete and incomplete weighment report
View reports based on specific queries
Well-defined security mechanism for different levels of users
Web camera integration
Compatible to ERP/SAP

Unmanned Weighbridge System